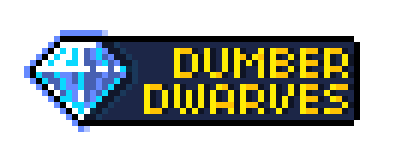 Dumber dwarves
Dumber Dwarves is a dungeon crawler where you can't control the adventurers directly and they are not the sharpest tool in the shed. Slap them or throw some meat on the battlefield to give your "instructions".
The game was created in 48h (well, more like 35h) for the GMTK 2020 game jam. The theme was "Out of Control".

I did everything by myself on this one, but I didn't have time to add any sound or music.

How to play
Your goal is to steal all the GEMS.
Click on a dwarf to SLAP him when he does something wrong
Click anywhere to throw some FOOD to guide your adventurers. You might need to sleep them to get their attention.
Click on FOOD to remove it.
FOOD refills over time, or when stealing a GEM.
Controls
Left mouse button - slap dwarves, drop food or remove existing food
R - Restart level
K - Toggle "Kid" mode (I added this one for my 2yrs old boy)
Trivia
The game first started as a god game where you were to teach humans things by only slapping them. So, if a disciple was picking up some food for example, slapping him would teach him to avoid food (ie. "god thinks food is bad"). Problem was: a disciple who learn something tends to repeat the concept on its neighbors. So, someone who thinks food is bad will also slap other disciples picking it. It was even possible to slap someone slapping, so it would teach that slapping someone was bad. And so on :)
It was a funny little prototype, but too sandboxy to actually become an interesting jam game. Maybe with some extra work, but definitely not in 48h.