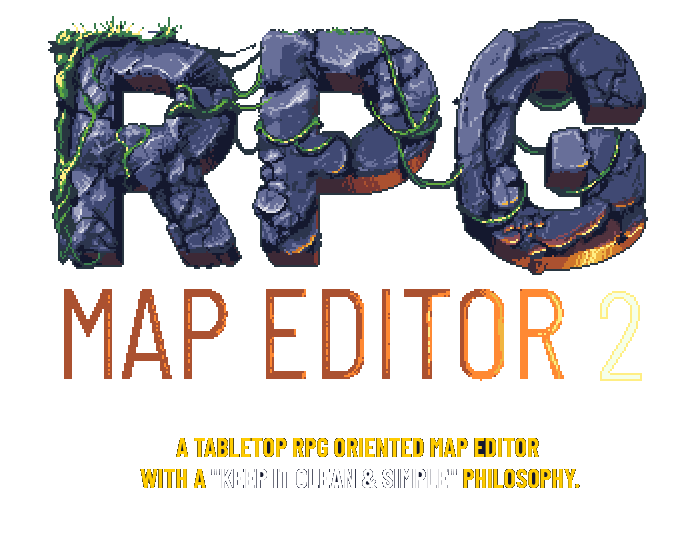 Tabletop RPG Map editor II
This update bring the long requested "hexagon grid" feature ;) Please also note that the app version is now numbered as "Update XX" instead of "Version 0.XX".

New grids -- You can now use Dots, Ancient, Horizontal Hexagon or Vertical Hexagon grids!
Rulers -- A new tool was added to measure rectangles (left click) or lines (right click).
Canvas dimensions -- The current size of the map is displayed on the borders.
Unified map loading/importing -- The Import menu was removed. Now, if you press the Load button, you will be able to load any map file, and the file format will be auto-detected. You can load files from: RPG Map 2 (obviously!), OnePageDungeon, Donjon.bin.sh and AnaMap 1.
The labels on the load/save/export buttons are now hidden by default. They can be re-enabled in the app Settings.
The Example panel now shows a preview of all the available maps.
Exporting an image without texts now properly applies to floating text bubbles.
It's no longer possible to move the map out of the screen.
Fixed the "Printer-friendly" render not updating properly
Fixed the undo/redo (broken by update 13, sorry!)
The zoom buttons & current tool help are now in the bottom left corner.
Zoom speed using mouse-wheel is a little more consistent between zoom levels
Added a "Clear recent files list" button
Updated some interface icons.
Many bug fixes.
Files
Windows (DirectX, recommended)
7 MB
Windows (OpenGL, if DirectX doesn't work)
6 MB
Get Tabletop RPG Map editor II